Who is online?
In total there is
1
user online :: 0 Registered, 0 Hidden and 1 Guest
None
Most users ever online was
21
on Thu Jan 06, 2011 8:38 pm

200lbs
is the weight minimum of pokemon that can be nominated for this category. Anything under that, even only by a few lbs, such as Charizard, Blatsoise, and Feraligator - are not allowed.
Code:


Nomination:
Reason:

At least five sentences for reasoning this time! Nothing like "it's cool/pretty, etc, and I LOVE it." "It's legendary" isn't valid reasoning either.
Last edited by Shiz on Fri Mar 18, 2011 7:55 pm; edited 1 time in total
_________________
Party Members/Inventory:

__

X23 Pokeballs

X3 Diveballs

X4 Heavy Balls

Shiz




Posts

: 686


Credits

: 11111


Join date

: 2010-11-28

Character Profile
Rp Name: Mysie
Pokedollar £: 400
Pokemon:


Nomination:
Reason:
I give you the heavyweight champion of the world, GROUDON!! Weighing in at 2094.4lbs, 950kg for you metric kids, Groudon is the single heaviest pokemon alive! Nothing is heavier, not Wailord, not Snorlax, NOTHING!!! Groudon is the continent pokemon, when he has some chill time he makes freaking continents. Not islands, not peninsulas, CONTINENTS!!! There's really no reason not to vote for Groudon, he's the heaviest, so by default that's awesome, he makes CONTINENTS, and he has a BA color scheme. Basically, if you're looking for a heavy weight, call up Groudon, he'll smack some shit around. Just remember, he's a busy pokemon, moving that much weight around is hard enough, never mind kicking Kyogre's sorry ass all the time.
_________________
TEAM:
Spoiler:
Spoiler:

My PC
Trainer-Collector, also goes by the name of GOD, cause I am >_>b

Kenji

Admin





Posts

: 628


Credits

: 6379


Join date

: 2010-12-04


Age

: 23

Character Profile
Rp Name: Kenjojo
Pokedollar £: -9001
Pokemon:


Nomination: Zekrom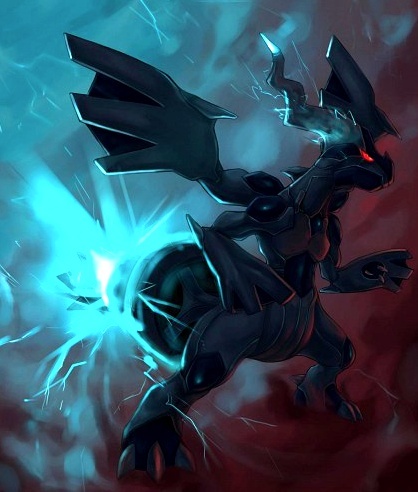 Reasoning:
Weighing at 760.6lbs, one of the most powerful pokemon in the entire pokemon franchise: Zekrom has many unique abilities. It's pretty unique in general, actually. It's the only pokemon known that's capable of learning fusion bolt and bolt strike, and it has a fucking power generator for a tail. It's the only one of it's type combination, and it's also the heaviest pokemon introduced in gen V. Finally, it, along with it's counterpart Reshiram in pokemon black, is the only legendary (aside from Reshiram ) that's required to be caught in order to proceed in the game's plotline and battle N.
_________________
party:

Asuka




Posts

: 80


Credits

: 5889


Join date

: 2011-02-07

Character Profile
Rp Name: Asuka
Pokedollar £: 1000
Pokemon:


Nomination: Steelix
Reason: Steelix is very hard to capture in first Pokemon Ranger game. his body is bigger than even a capture line length that you can have at point of storyline you can fight him. I admit he is even harder to capture than Final Boss; Enraged Entei at which you could at least did a circle around him, for Steelix on other hand you had no Dark Assist to extend line for easier capture or ghost assist to make him confused so only useful one was Fighting Assist which just made capture numbers quicker to go down but it's still hard to circle him. Steelix is also very heavy and one of most heaviest pokemon. Both reasons make him one of my fav pokemon.

Byakuga




Posts

: 34


Credits

: 5894


Join date

: 2010-12-26

Character Profile
Rp Name: Byakuga Uiga
Pokedollar £: 250
Pokemon:


Nomination
:
Reason:
In short, Snorlax is the original. Snorlax blocked your path on
Route 12 with his sheer girth, and hasn't been dieting since. He's so
lazy it took feeding time and a Pokeflute to rise him to battle.
Despite this, Snorlax was a great Pokemon whose immunity to poison
really helped out. Even though he's officially a "normal" type Pokemon,
he's truly the type of Pokemon who stays with you all these years. It
doesn't matter if he officially wins Pokemon of the week, because that
won't change the fact he's the heavyweight champion of the Pokemon
world.

Morse




Posts

: 6


Credits

: 5700


Join date

: 2011-03-16

Character Profile
Rp Name: Eli Morse
Pokedollar £: 1000
Pokemon:


Finally someone took the hint and posted a new one. Nominations closed; voting starts today.~
_________________
Party Members/Inventory:

__

X23 Pokeballs

X3 Diveballs

X4 Heavy Balls

Shiz




Posts

: 686


Credits

: 11111


Join date

: 2010-11-28

Character Profile
Rp Name: Mysie
Pokedollar £: 400
Pokemon:



---
Permissions in this forum:
You
cannot
reply to topics in this forum